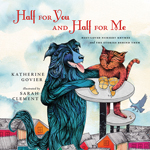 Half for You and Half for Me | Whitecap
This was such a wonderful book to work on. Not only is it a gorgeously illustrated children's book, but it's also full of fascinating anecdotes on the stories behind the nursery rhymes. And it was an honour to work with Katherine Govier, whose career I've followed since I was a teen, when I discovered there was a Canadian author who shared my weird last name. The illustrations are by Sarah Clement. Many vintage illustrations from books of the Toronto Public Library's Osborne Collection of Early Children's Books are also scattered throughout.
I'm thrilled to say I'm not the only one who thought this book was brilliant. It was chosen as an Indigo/Chapters Heather's Kids Pick. Half for You and Half for Me: Best-Loved Nursery Rhymes and the Stories Behind Them is published by Whitecap.